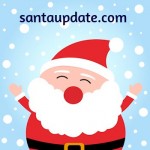 Receive free non-commercial text messages from the North Pole updating you on Santa's location. These texts are based on news generated from the North Pole via Santa Update.com, which has been tracking Santa continuously since 1991.
Sign up again next December!
Daytime texts are sent between 12/20 and 12/23. Texts are sent HOURLY via the North Pole Tracking Center when Santa launches at approximately 1:00 AM EST on 12/24 and arrive hourly until Santa returns to the North Pole early in the morning on 12/25.
There is NO commercial messaging with this service.
Your phone information is kept completely secure and private and is used for NO other purpose. Once Christmas is over your data is deleted and new signups are required to participate again the next year.
This free text service is operated by the North Pole News Department.
Similar information and updates are provided via Twitter and Facebook.